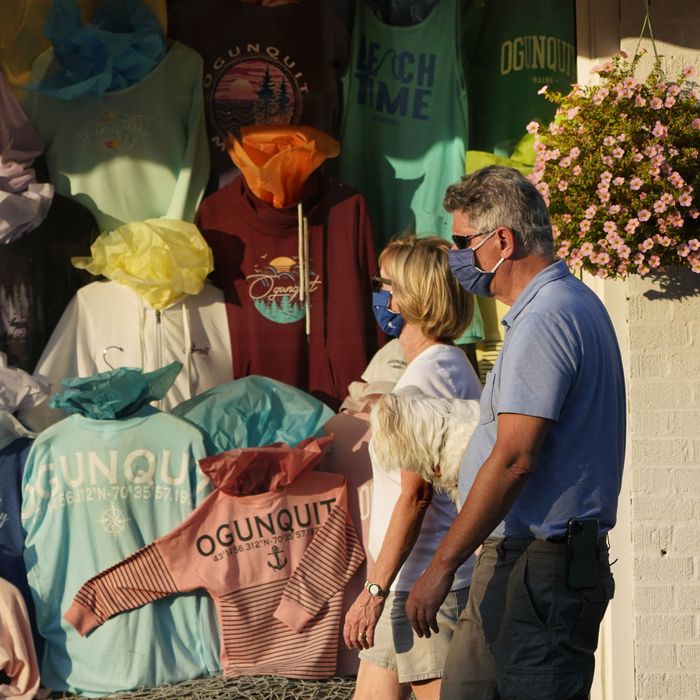 Photo: Robert F Bukaty/AP/Shutterstock/Robert F Bukaty/AP/Shutterstock
A Maine woman who died this past Friday of COVID-19 was infected via an outbreak that originated from a wedding reception in the state earlier this month, according to local hospital officials and the Maine Center for Disease Control and Prevention. The Portland Press Herald reported that the woman did not attend the reception but contracted the virus from someone who did. Neither the woman nor the wedding guest she contracted the virus from have been identified.
Maine has a low transmission rate and a 50-person limit on indoor gatherings as well as a mask mandate at indoor public places. Nonetheless, the Maine CDC says that 65 people attended the wedding reception on August 7 at the Big Moose Inn in Millinocket. Maine CDC spokesperson Robert Long said that as of August 22, 53 cases linked to the reception had been identified, many of them secondary and tertiary infections. The cases have presented in people ages 4 to 98 years old, and seven of the cases are in children.
Millinocket Regional Hospital, where many of the patients associated with the outbreak have been treated, said it had tested a total of 366 people who went to the reception or had contact with someone who did. CNN reports that everyone who tested positive was given instructions to quarantine.
Local health officials are continuing to investigate the outbreak from the wedding reception, which includes contact tracing and determining how well social-distancing practices, such as wearing masks, were implemented. The Big Moose Inn — a 37-acre property that contains cabins, campgrounds, and a restaurant — was cited for an "imminent health hazard." The Herald reports that the citation carries no fine but can lead to more serious reprimands if the venue is found in violation of public-health rules in the future.